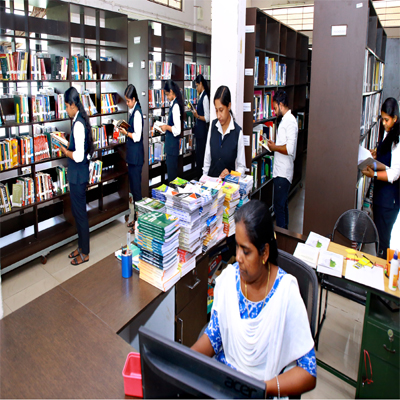 Librarian in Charge
Ms.Minju P.J.
.Working Hours :
9.30 AM to 1.45 PM.
2.15 PM to 4.30 PM
Library Rules :
Absolute silence must be maintained in and around the library. Loud consultations, animated conversations etc. are strictly prohibited.
Every student of the college is entitled to borrow two books at a time for a period of two weeks.
No book or magazine or furniture or any property which belongs to the library shall not be taken out without the permission of the Librarian.
Books dog-eared, mutilated,torn,scribbled or otherwise damaged must be replaced with new copies by the borrower.
Books lost must be replaced or three times the cost shall be paid as fine.
Reference books, periodicals and newspapers shall not be taken out on any account.
Books borrowed shall be returned on or before the due date of return. A fine of Rs. 1/- per book per day will be charged upto a delay of five days beyond which the fine will be doubled upto a delay of ten days. Longer delay in return will entail forfeiture of library membership as well as heavy fines.
Absence from college will not be ordinarily accepted as an excuse for delay in the return of books.
Names of defaulters will be reported to the Principal every week.
Arrears of fines and non-return of books will lead to prevention from taking the University examinations.
No book shall be checked out unless proper entries are made in the issue register and the borrower's signature.
Library property must be handled with care.
All complaints will be dealt with by the Librarian. In case of dispute, the librarian will refer the matter to the Principal. The decision of the Principal is final in all such disputes.
All personal belongings shall be left outside the library before entering.
Violation of any of the rules will entail serious disciplinary action which may include expulsion from the college.